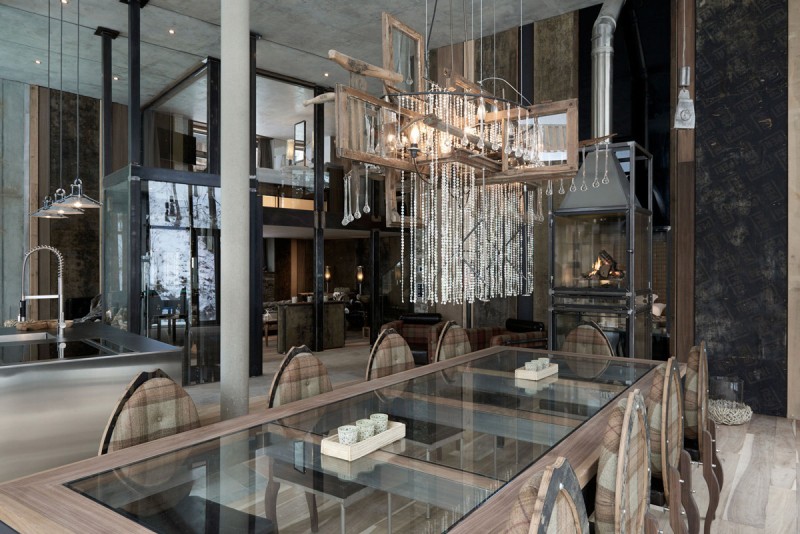 Lonny – High-Altitude Design
HOME TOUR – Written by Mary Krienke Photographed by Catherine Gailloud
High-Altitude Design – Heinz Julen's audacious works challenge traditional Alpine aesthetics
At the Luxury Loft, Heinz Julen's most recent project, a chandelier composed of rustic window frames and a cascade of crystal hangs over a glass table framed in walnut, which can be hoisted out of the way to free up space for entertaining.
You'd think that someone whose family has lived for centuries in the shadow of Zermatt's iconic Matterhorn would be firmly anchored in the past. But Heinz Julen, an artist-entrepreneur who is also a self-taught architect and designer, is forging a brash new Alpine sensibility. While the traditional chalet, with its small windows, was designed to guard against winter's fury, his bold structures, with their wide expanses of glass, embrace their environment. They celebrate the mountains rather than warding them off.
"I love the tradition of our old authentic chalets," Julen says. "But we live in another world. I don't see any reason to build 16th-century stables and hay barns today. I do respect their elements, their building techniques… and especially the ancient tradition of this part of Switzerland that a man should know how to do everything." An autodidact—his total professional training is one year of art school—Julen is intimately involved in the entire process of his designs, from original concept down to the smallest finishing detail.
I don't take myself too seriously. I let ideas fall on me. - Heinz Julen -
That's the way he went about building and furnishing his prophetic View House, with its four rental units, back in 1994, when he was 30 years old. An angular structure of glass, pale wood, and exposed metal fittings, it was scorned by locals but drew positive attention in architectural circles. Fast-forward 16 years to the 20-room Backstage Hotel and Spa, Julen's most emphatic design statement. Its soaring glass façade, bisected with wooden beams, balconies, and exposed structural underpinnings, crowns his Vernissage complex, a stylish nightclub, movie theater, concert venue, and art gallery that serves as a creative engine for the laid-back ski resort. (In 2007, it spawned the Zermatt Unplugged music festival held each April, which last year drew more than 25,000 fans.)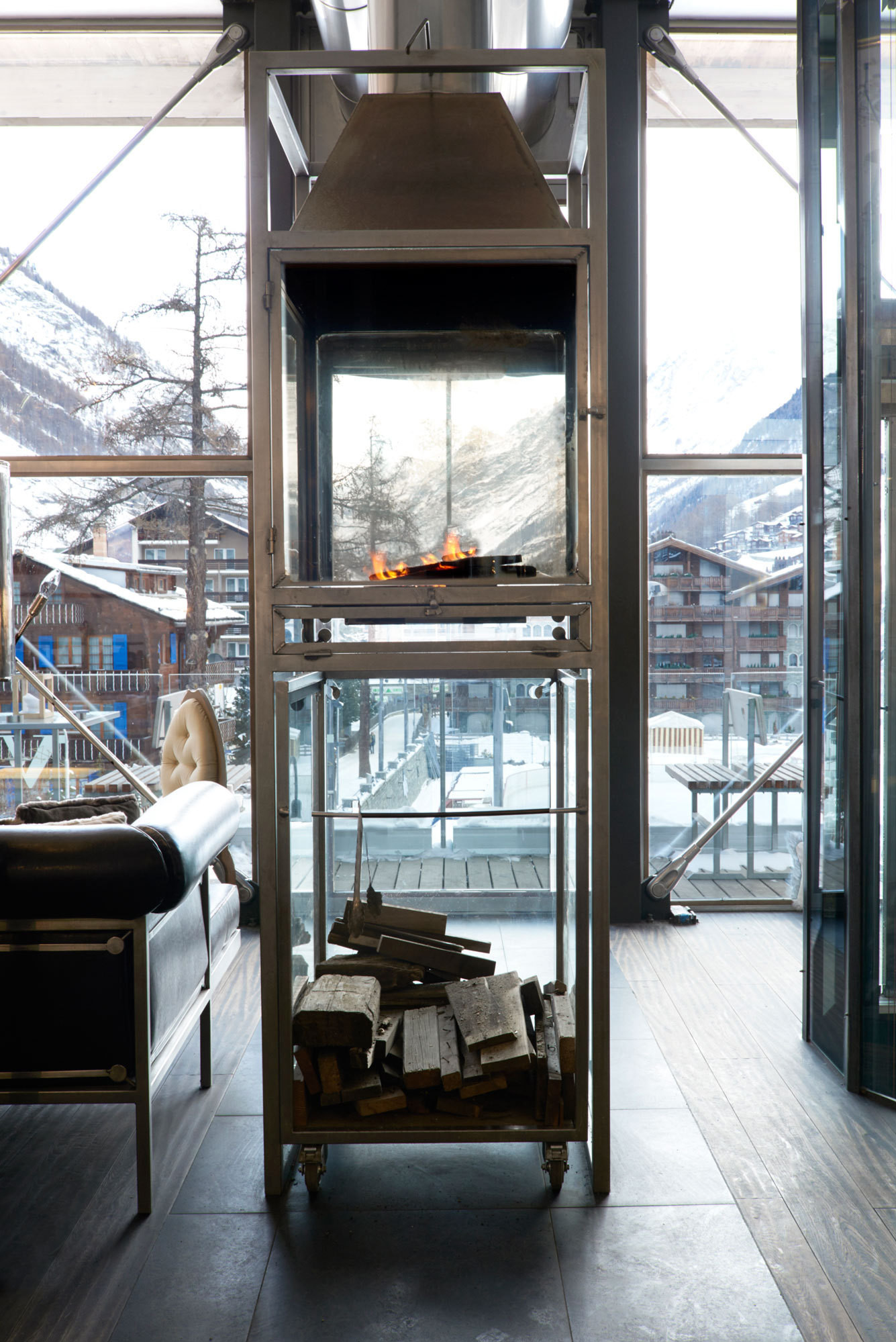 Inside Backstage, Julen set out to "create a setting" with an open-plan reception/ lounge/dining space free of functional demarcations. Even the kitchen, presided over by Michelin-star chef Ivo Adam, is in full view. The bulk of the hotel's structural components and all of its furniture and decorative elements were produced in Julen's own Zermatt workrooms with his hands-on involvement. "My ideas come from solving problems," he says. Window frames are handsomely crafted bands of steel designed to frame the view. Freestanding glass-enclosed fireplaces warm from all sides. Walls are covered with the reclaimed planks of scarred and darkened wood used to support poured concrete and typically discarded. And then there are the theatrical flourishes that are quintessentially Heinz Julen: pointy, rococo-backed walnut chairs whose slender front legs are simple iron rods; an extravagant chandelier, a wacky bricolage of plumbing hardware mixed with crystals, beaded chains, musical instruments, and festoons of feathers.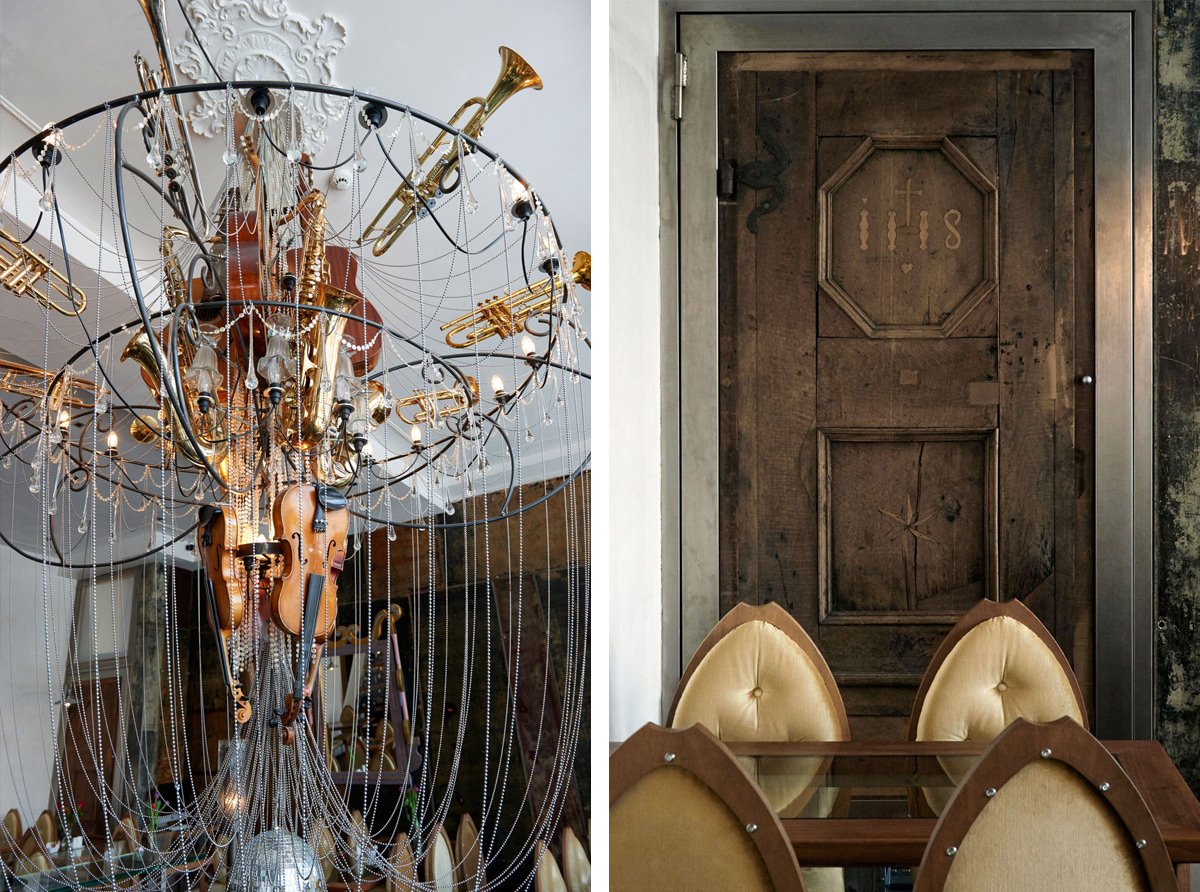 Accommodations at Backstage are definitely out of the ordinary. The category that best expresses Julen's unconventional design thinking is his "cube-loft," in which the bed is perched atop a modular glass box housing bathroom essentials for a room-within-a room effect Likewise, the Backstage spa is not your typical place for pampering. "For me, a spa should have a deeper meaning, and so I took as its theme the creation story from the Book of Genesis," explains Julen, whose art frequently incorporates religious motifs. The story unfolds in seven indoor and outdoor "cabins" faced with weathered wood, which offer such sybaritic experiences as reclining on a bed of heated glass beads under the meditative movement of clouds, or taking a sauna amid intergalactic images. Faced with the need to keep his atelier in operation between his building projects, Julen opened a boutique as part of the Vernissage complex in 2002. Offering a selection of furniture and lighting fixtures, it enables hotel guests to replicate the unique Backstage design experience back home.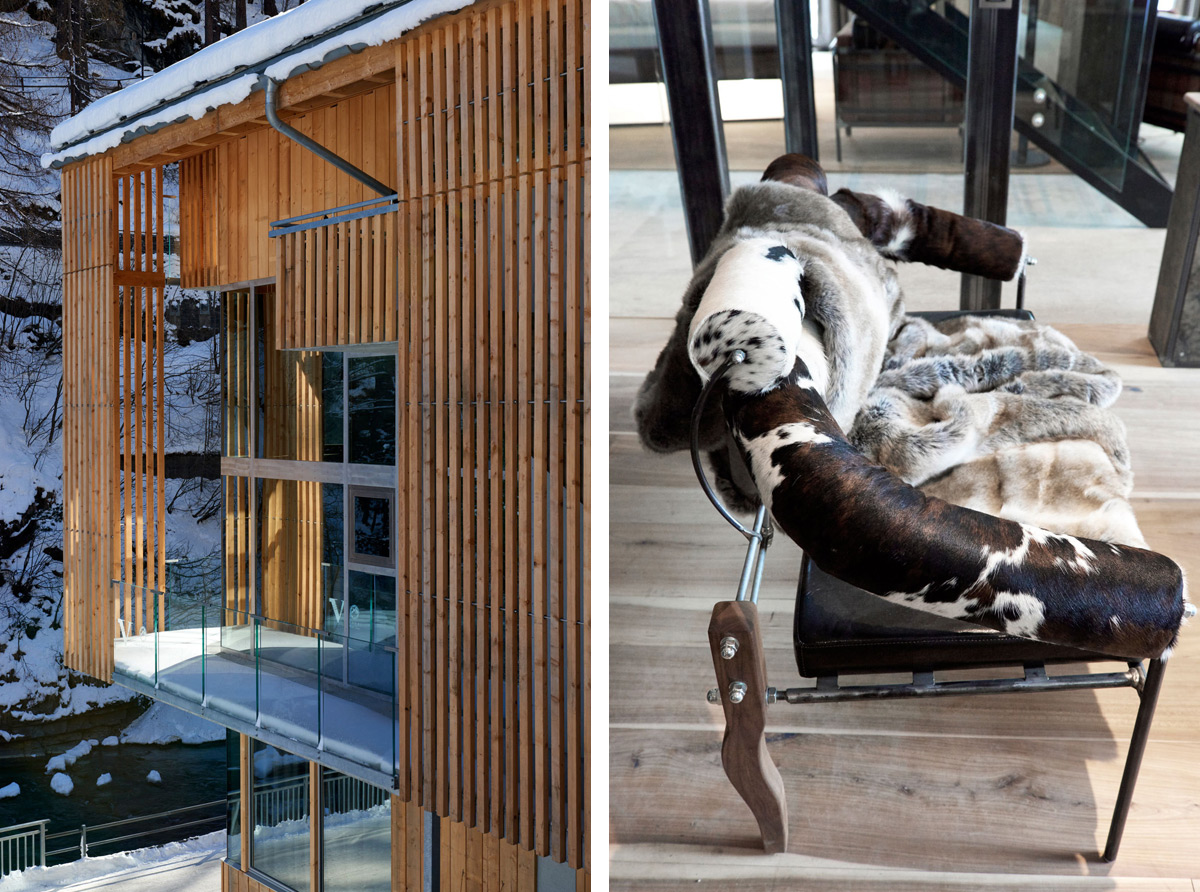 The Julens have always been innovators. My great-grandfather was the first one in Zermatt to have electricity.

- Heinz Julen -
A 10-minute walk from the hotel lies Julen's recently completed Luxury Loft, which accommodates up to 10 guests and has a private cinema, wellness center, and in-house chef. Its design spans seven centuries of Alpine architecture: the main glass structure is wrapped in pale wood slats with fewer hard-edged industrial touches, while an underground corridor leads to an adjacent 15th-century hay barn, which Julen stripped down to its rustic supporting walls and placed a glass-enclosed bedroom inside.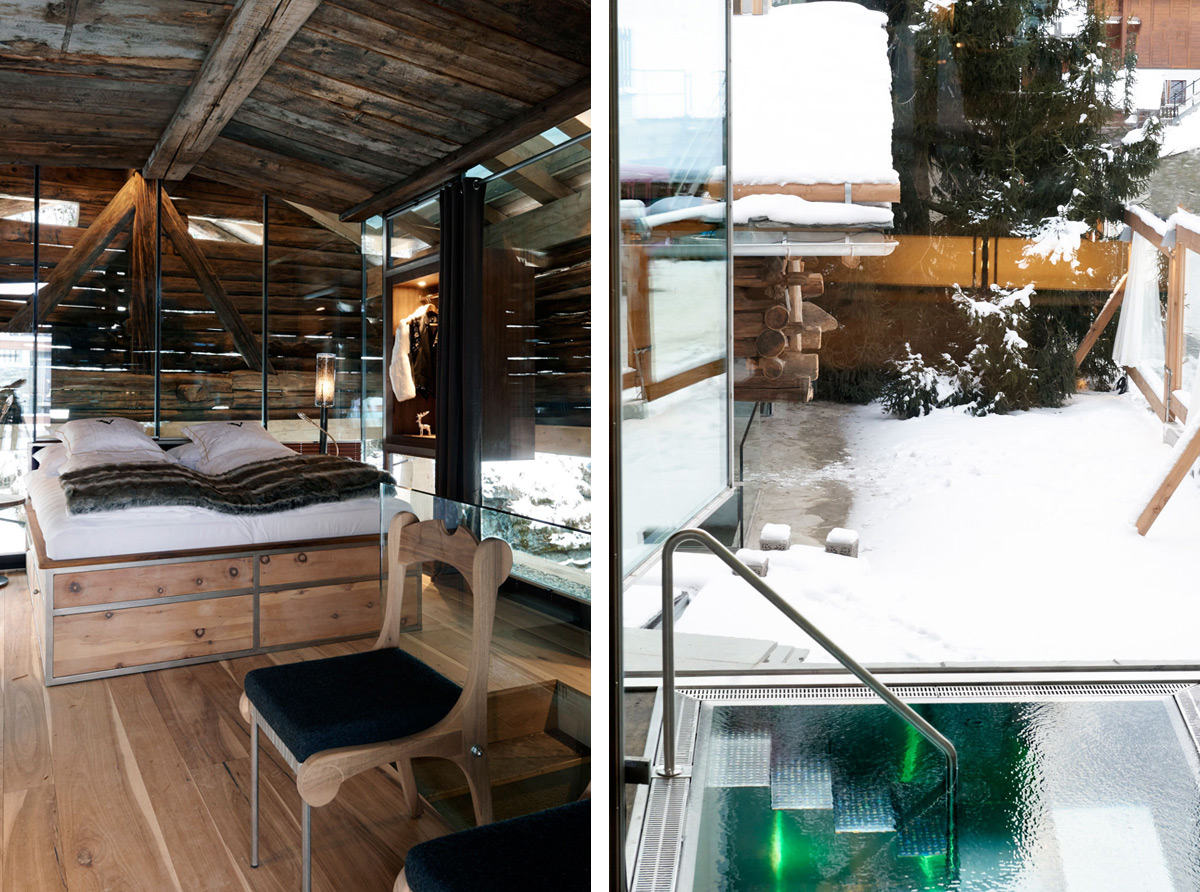 Furnishings throughout the Loft reflect a new refinement in Julen's design thinking—a sumptuously tufted chesterfield sofa with a faux-chinchilla throw, chairs covered in soft menswear plaid or cowhide. A chandelier incorporates centuries-old window frames, together with the requisite crystals. Functional innovations include a dining table that can be raised via a pulley system to free up the space for entertaining.
With no new building projects in the works, Julen is concentrating on more private pursuits. In 2009, he shed his freewheeling bachelorhood and married Zermatt local Evelyne Aufdenblatten, who directs the hotel's financial operations. Their son, Jona, is two. "My focus is changing," he says. "Perhaps I'll return to making art."
http://www.lonny.com/Home+Tour/articles/c55-AgtDepS/High+Altitude+Design