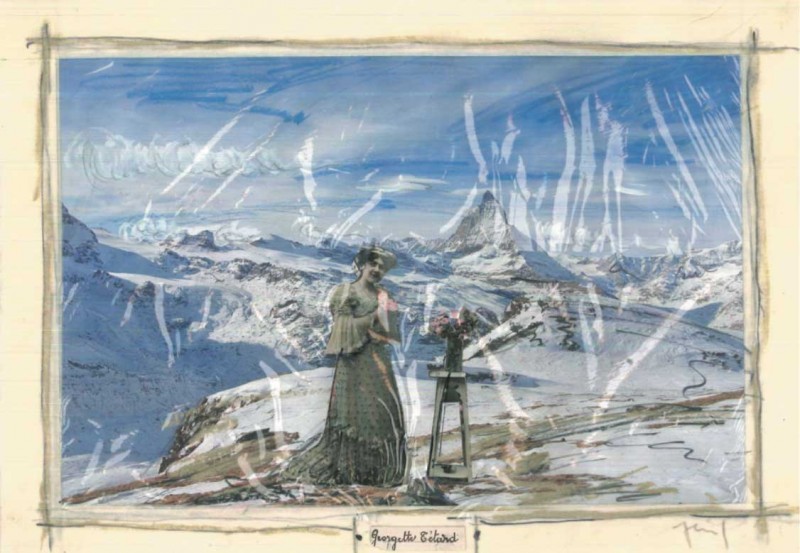 Romantic Architecture – Exhibition at Kunsträume, Zermatt
The picture series "Romantic Architecture" is created out of photo animations for ongoing architectural projects by Heinz Julen.
The respective projects are continuously photographed during their development. Using different coloring techniques, Heinz Julen then processes these photoprints for a better up-front visual assessment of the ongoing production steps. The main issues are in particular architectural lines, materialization and optically decorative assessments.
These partially strict design works are completed by adding a romanticized momentum taking the form of both human and natural presentations.
Heinz Julen also applies this working process to pure landscape impressions, romanticizing the natural change of landscapes, especially glacier retreat, in a similar way.
The thinly covered transparent foil layer provides the works with a three- dimensional level.
The sheets are then framed in Heinz Julen's studio. They are arranged in such a way that the respective original sheets are given enough room to develop this three-dimensionality.
KUNSTRÄUME ZERMATT, BACKSTAGE HOTEL
Hofmattstrasse 4
CH – 3920 Zermatt
tel: 0185 26 37 48 59
FULL CATALOGUE & PRICE LIST – 1MB

Die "romatic architecture" Bilderserie entsteht aus Fotoanimationen für laufende Architekturprojekte von Heinz Julen.
Die jeweiligen Projekte werden während ihres Entstehens laufend fotogra ert. Diese Fotoprints werden dann von Heinz Julen mit verschiedenen Farbtechniken überarbeitet um die laufenden Schritte der Arbeit visuell
im vorab besser beurteilen zu können. Hierbei geht es vor allem um architektonische Linienführung, Materialisierung und optisch dekorative Einschätzungen.
Diese zum Teil streng gehaltenen Entwurfsarbeiten, werden durch das Einbringen eines romantisierten Momentums, in Form von menschlichen wie naturellen Darstellungen, komplettiert. Heinz Julen wendet diesen Arbeitsprozess dann auch für reine Landschaftsimpressionen an. Hier wird die natürliche Veränderung der Landschaften, vor allem zurückbildender Gletschersituationen, auf ähnliche Art romatisiert.
Die fein überzogene transparente Folienschicht soll den Arbeiten eine dreidimensionale Ebene ermöglichen.
Die Blätter werden im Atelier Heinz Julen gerahmt. Sie sind so umgesetzt, dass die jeweiligen Originalblätter genügend Freiraum zur Entwicklung dieser Dreidimensionalität bekommen.
KUNSTRÄUME ZERMATT, BACKSTAGE HOTEL
Hofmattstrasse 4
CH – 3920 Zermatt
tel: 0185 26 37 48 59